NuTone Masters
The Nutone master station is the "brain" of the system and is often installed in the kitchen. It is used to adjust settings for the radio station, mode of intercom stations (radio-intercom, intercom only, monitor or off), volumes and source.

The power supply for the system is connected to the master. Current Nutone intercom systems require a dedicated cable that is run from the master to each device on the system. The master is fastened to a housing that mounts in a wall. Intercom masters must be compatible with intercom speakers, wire and other devices on the system.

The NM200 model is used for new installations as well as replacements where the intercom cable has 6 or more conductors. The NM100 model is used for replacement systems where the intercom cable has 3 or 4 conductors.

Please contact our friendly experts with questions on Nutone intercom master stations.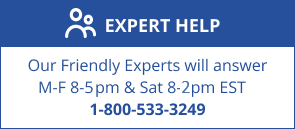 First

Previous

P1

Next

Last
Showing
1
to
7
of
7
products
View All Masters Products