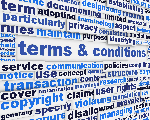 Terms and Conditions
Below are our Terms and Conditions of our website as well as general information.
Shipping
We accept orders for shipments to U.S. and Canada destinations only. Shipping is free on orders of $80 or more in the 48 contiguous states. An $8.95 shipping charge is added to orders of less than $80 in the 48 contiguous states. We charge actual shipping to Alaska, Hawaii and Canada. For Canadian orders, an initial $21.95 shipping charge will be added when the order is placed. If the actual shipping charge exceeds the initial $21.95, a customer representative will request approval of the additional charge before the order is shipped. We will also request approval of shipping costs for Alaska and Hawaii orders. We do not mark up shipping charges or add brokerage and handling fees.
All orders are shipped FOB from our shipping dock by FedEx Ground, UPS ground or US mail at our option. Buyer is responsible for customs, duties and other import fees on shipments to Canada.
Orders placed by 12:00pm EST are generally shipped the same day. We will contact you if any item ordered is out of stock and will not be shipped within five business days. Please allow up to seven days for delivery.
Shipping discrepancies must be brought to our attention within five days of receipt. Otherwise the order will be considered complete.
Payment
We accept Visa, MasterCard, Discover, American Express, Amazon and PayPal. The credit card is processed when the order is placed. Money orders, cashier checks, personal checks and company checks can be mailed to us. Upon receipt of the former two, we will ship your order. Personal and company checks must clear before we ship the order. We do not ship orders COD.
*Amazon Payments
Please note that this is a payment method only to save you time checking out. Using Amazon as a payment method does NOT provide Prime® Benefits. This means if your order is below $60, we do charge shipping and we do NOT promise 2 day shipping. This is the same as if you purchase something on Amazon's site from a 3rd party. If you have any questions, please contact us.
Returns
We strive for 100% customer satisfaction with our products. If you are not satisfied with your purchase, we offer a money back guarantee for 30 days from invoice date. Please contact us to obtain a return authorization number. The returned item must be in the original carton with all packing and paperwork and be salable as new. Please do not use the original carton as the shipping container. Credit will be issued upon inspection of returned goods. Shipping charges are not refundable. If your order qualified for free shipping, we will deduct our shipping cost from the credit amount. You are responsible for the cost of returning the product to us.
Once a return authorization number is obtained, the returned item should be sent to Quality Home Systems, 202 Blum Ct #1352, Bel Air, MD 21014. The return authorization number should be noted on the outside of the carton.
If your order is damaged or incorrect, or a product is defective when first used, please contact us immediately to receive a shipping label so you can return the product without incurring cost to do so. We will send you a replacement product at no charge. If the damaged, incorrect or defective product is not turned over to the carrier within five days, you will be charged the price of the replacement product. Credit will be issued when product is received. These discrepancies must be reported to us within five days of receipt.
An item that is part of a kit can only be returned if it is incorrect or damaged. If a replacement is not requested, credit will be issued for the price of the component less 5%. A component cannot be returned for any other reason.
Sales Tax
A 6% sales tax will be added to orders with Maryland destinations.
Warranty and Repairs
We stand behind manufacturers' warranties on products that you purchase from us. If you suspect a product is defective or is not working as you expect, please contact us to troubleshoot and determine appropriate resolution. For products under warranty, we comply with manufacturers' policies to repair or replace. We will advise you to send defective products either to us or the manufacturer. You are responsible for paying the cost of shipping the defective products. There may be occasions where we pay these costs. The repaired or replacement product will be sent to you freight prepaid.
Products not under warranty are handled in a similar fashion. If feasible to repair, we will advise you to send defective products either to us or the manufacturer. You are responsible for paying the cost of shipping the defective products. We will determine a repair estimate and contact you to obtain your approval. If you approve the estimate, the repair cost and shipping fee will be charged to your credit card immediately. The product will be shipped upon completion of the repair.
Privacy Policy
This policy describes how we collect, use and protect our users' personal information. We respect our users' personal information and exercise the utmost care in keeping it private.
Information Collection and Use
We collect information to provide quotes, process orders and communicate order status updates. This information includes name, address, phone number, email address, credit card details and details of transactions that customers execute on our site. We also provide the option to create a user name and password which facilitates placement of future orders. We strongly suggest not sharing this information with anyone. We will retain this information for as long as necessary to comply with our legal responsibilities.
Registration
We provide an option to register with us whether or not you place an order. To register, you must provide your name, address, phone number, email address and password that you choose. This information facilitates placement of orders and allows you to sign up for our newsletter and other communications
Orders
Prior to providing any personal information, you can add items to a shopping cart and view a total price of the order including shipping. (Shipping for destinations outside of the 48 contiguous states cannot be determined at this time.) To convert this shopping cart to an order, we need to obtain your name, address, phone number, email address and payment information. An order confirmation and order status updates are routinely email to you. If you have registered, it will only be necessary to enter your email address and password.
To process your credit card, we share your payment information with the merchant bank for authorization and processing. This process is protected. See the Security section below for details.
Cookies
We use cookies for record-keeping and tracking information about our users' experiences. This enables us to customize certain content based on your browser type and other information. If you choose to reject our cookie, you can browse our site but will be unable to place an order. We will not share any personal information identified by this cookie with a third party.
Sharing
We use third party companies to ship orders, deliver packages, send emails, process order payments, provide marketing services and analyze data. These companies have limited access to your personal information and are not permitted to use it for other purposes. We take extreme care in selecting third party companies to provide these services and insure that they exercise stringent security and privacy practices.
We may share your personal information when legally required to do so and when disclosure is necessary to protect our rights.
Testimonials
We post testimonials to our site so users can learn about positive experiences from other customers. These testimonials are reviewed to insure that they are accurate. They are genuine. We reserve the right to post or remove testimonials at our discretion.
By providing a testimonial, you give us the permission to post it on our site and understand that you are not entitled to any compensation and that we will only associate your first name to it.
Links
Our site may contain links to other sites. We are not responsible for the privacy practices of these other sites. Our privacy policy applies only to our own web site.
Security
We exercise extreme care to protect our users' information. Information that is submitted either through our web site or by phone is protected both online and offline. Any personal or sensitive information provided to us is sent via SSL Encryption. You can view our security certificate on our site.
If you have forgotten your password, please go to My Account and click the "forgot password" link. Please note that we do not have access to your password. The system will generate a temporary password and send it to your email address on file. You may then login with this temporary password and change your password in your account.IF you attempt your password too many times, you may become locked out and will need to contact us, for us to unlock your account. We cannot unlock accounts via email, you must call us during regular business hours.
Our building is protected by a state of the art monitored security system. All computers are password protected. We have procedures in place to safeguard our customers' personal information
Special Offers
We send special offers only to customers who give us permission to do so. All special offers are sent by email only and include an opt-out link that allows you to stop receiving these offers. If opt-out of special offers is chosen, customers may still receive newsletters or other information besides special offers. Please refer to the Choice/Opt-out section below for instructions on being removed from our email list.
Newsletters
To keep our customers up to date on new products, industry developments, maintenance tips and other news, we publish periodic newsletters that are emailed to users that are on our email list. To receive these newsletters, it is necessary to register on our site. At any time that you want to stop receiving our newsletters, you can choose the opt-out link on the email.
Choice/Opt-out
There are several ways for users to stop receiving special offers, newsletters and other communications from us. You can use the unsubscribe link that is included in all emails. You can sign on to our site and choose to stop receiving newsletters. You can send an email to webmaster@qualityhomesystems.com and request that communications no longer be sent to you
Notification of Changes
If we change our privacy policy, this privacy statement will be modified to reflect the change. We reserve the right to change our privacy policy at any time.
Last Update
This privacy policy became effective on July 11, 2016.
Contact Us
You can contact us by phone at 800-533-3249 or 410-638-7538, or by mail at 202 Blum Ct #1352 Bel Air, MD 21014.
Order Assistance
Help with an order you placed.
Problem With Order
If you have a problem with an order you placed with us please contact us at orders@qualityhomesystems.com . This includes missing products, damages and incorrect products shipped. Please reference your Order Number when contacting us. We strive to answer your problems within 48 business hours(excluding holidays)
Cancel entire order
Please contact us as soon as possible if you wish to cancel an order. Most in-stock orders are shipped same day and cannot be canceled once shipped. If the order has been shipped, please contact us for a Return Merchandise Authorization Number. If the order has not shipped, you can call us during normal business hours for assistance. Please note that we cannot cancel orders via email!