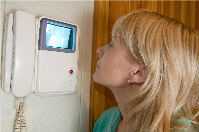 NuTone Intercom
We sell the complete line of NuTone intercom products. We offer complete system kits, retrofit intercom kits to replace your older NuTone system, components for new systems and door speakers for old models.
Whether you need a new intercom, want to replace your old system or need replacement Nutone intercom parts, we have the products you need. Feel free to use our search above to help you find what you need!
We are an authorized NuTone dealer and support warranty coverage for products you purchase from us.
We are happy to help you if you still need assistance finding the right product. Call one of our Friendly Experts Today!