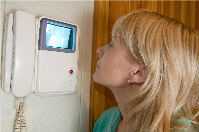 Intercom Systems and Parts
At Quality Home Systems, we offer one of the industry's largest selections of intercom systems from trusted brands of Nutone, M&S, Intrasonic and Valet. Home intercom systems consist of a master station and sub-stations that have speakers and microphones which enable communication. Extra components such as CD players, docking stations for MP3 players and smart phones, door bells and video components are available.
We offer a variety of systems including music and radio intercoms, communication-only intercoms, and video intercom systems. Whether you are looking for a complete intercom kit for a new installation, replacement intercom system or individual intercom components, we are here to help you. Please contact our friendly experts if you need assistance.